After what has been a poor summer for Australian cricket, selectors, commentators and pundits now look ahead to the Ashes series in England this year. Despite demolishing an underwhelming Sri Lankan side on home soil, it appears there could be more questions than answers. Despite the Ashes being six months away, experts have put forth their opinions regarding the ideal squad.
The locks
With the absence of Steve Smith as captain, Tim Paine is a certainty to be captain of the squad come the First Test on August 1. While his summer left much to be desired in terms of runs, his glovework was terrific. The keeping position is his.
Currently, Australia's best player is Pat Cummins. He was Australia's standout bowler against the Indians, a run of form that continued in the tour against Sri Lanka. In just two test matches, he collected 14 wickets at an average of just over 7. Not only that, he has shot up the rankings and is now second on the ICC rankings to Kagiso Rabada of South Africa. He is an automatic selection.
Nathan Lyon will remain Australia's first choice spinner, despite having a rather uneventful tour against Sri Lanka. Likewise, new vice-captain, Travis Head, appears almost a certain selection after being Australia's best batsman across the entire summer. His maiden test century in Canberra was crucial in silencing those criticising his inability to convert starts into big scores. He should be selected for the First Test in Edgbaston.
The likelies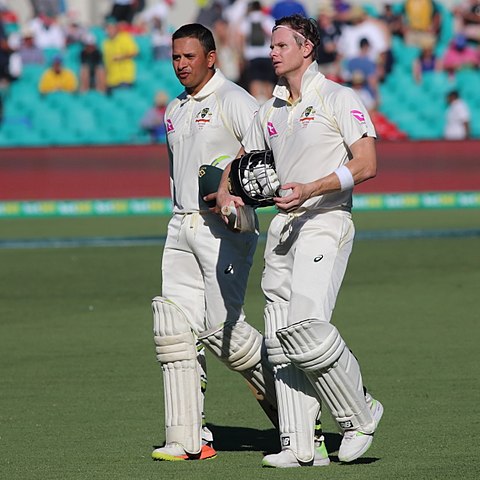 Steve Smith would be a lock had it not been for his recent elbow injury. Only time will tell whether the former Australian skipper can return to the international arena in the same form he left it. It's a similar situation with David Warner, who is very likely to return to the squad. Really, it's all a matter of form and fitness with Australia's former leaders, a point confirmed by Australian coach, Justin Langer.
Joe Burns has also leapt into Ashes contention with his mammoth 180 at Manuka. However, a drop in form could see the return of Matt Renshaw, who had a sensational county stint in England before seeing his form plummet. Renshaw's form in England cannot be disregarded. Khawaja would have been a maybe had it not been for his century in the last innings against Sri Lanka. He is still by no means a certainty.
Josh Hazlewood should be there if fit, however, his form in past UK tours has left much to be desired. Starc's return to form in the last test has definitely reinforced his claim as one of Australia's premium strike bowlers.
The maybes
Players like Jhye Richardson and Kurtis Patterson have definitely complicated matters for Australian selectors. Both men have put forth stellar performances early in their Test careers; however, they probably need to show something in the next six months. Renshaw is in a similar position.
Harris was probably considered a likely selection until his horror run against Sri Lanka. There are question marks over Harris' patience when batting, a quality which is crucial in England. If Warner and Smith come straight back into the side, Harris could be in trouble to retain his spot. The same can be said for Labuschagne, who is probably more of a long shot. Runs were there for the taking in Canberra and Labuschagne missed out, which will really hurt his case.
Everything is up in the air at the moment. What is certain, however, is picking the Ashes squad for the First Test will keep the selectors sleepless for several months.